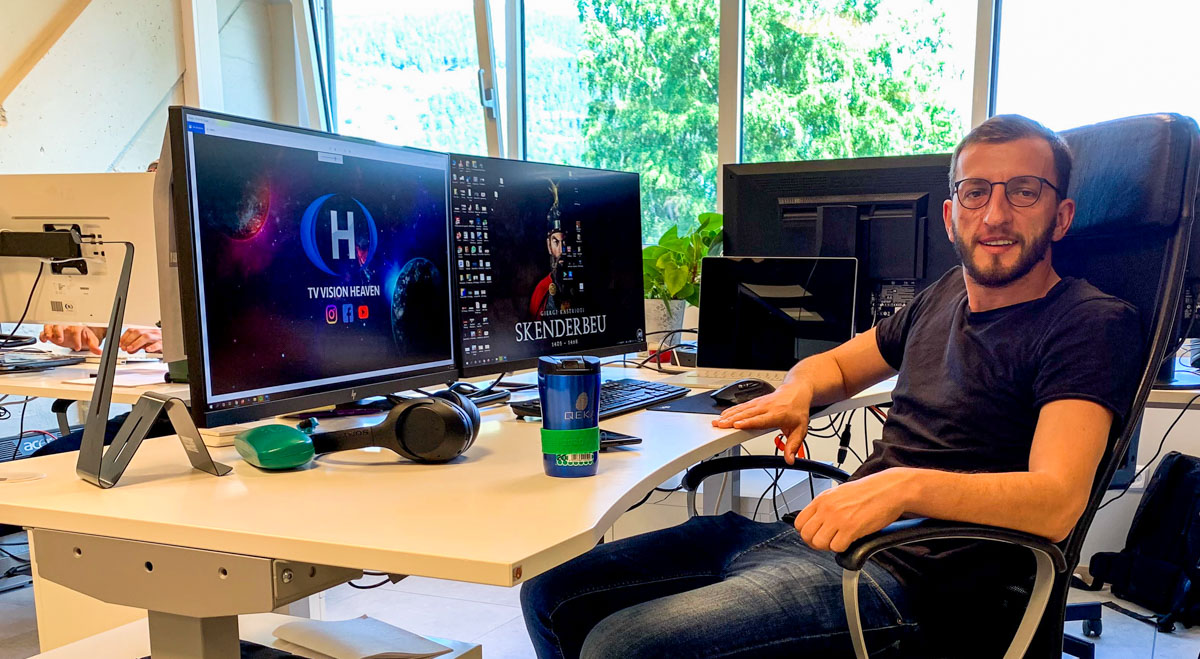 Meet the team at TV Vision Heaven: Kreshnik "Nick" Ceka
In this series of articles, we sit down with the team members here at Vision Heaven to ask about their hopes and dreams for the future, as well as to uncover their particular and unique function within the team. Join us as we meet our graphic designer Nick for a conversation about the importance of diversity within Vision Heaven. 
Kreshnik Ceka (32), or just Nick, as he is usually called by his Norwegian colleagues has been a part of our team at Vision Heaven for the last year. Working with everything design- related, not reluctant to contribute to our resurrected endeavour of spreading the gospel on the international stage. Always available, but never hesitant when he is needed. Regardless of whether it's a phone call at 11 pm on a Saturday about a small change that has to be made on Vision Heavens website, or if it is a lack of dedicated personnel to carry heavy equipment up several or even a myriad of stairs in the pouring rain; tasks far outside of his job description – Nick is nonetheless the first to volunteer.  
Passion for the international team and audience
This dedication to our work shown by Nick makes him an obvious candidate to be featured in an article such as this. Our conversation first starts with Nick as a person, but soon find itself drifting into its separate adventure. Covering a wide range of topics, Nick is always eager to elaborate on the importance of our international team and how it plays an integral part of our vision. 
-The hearth behind Vision Heaven is to bring Christian people together and to spread the gospel to every corner of the world. I think it is important for the staff to also be international. When you think global, it is important to have different tastes, different colours in everything, Nick states. He continues to talk about the importance of having an international understanding of our international audience, and the benefit of having a staff that reflects the market. 
-Even within a design, some cultures are more interested in straight lines, and other cultures are more interested in more round lines, he further adds as an interesting anecdote rather fitting for a layman such as myself within the field. Nick is emphasizing the importance of having an understanding of the international audience within every realm of our project, and not just the more obvious things as to just broadcast in a language that "everyone" understands. 
-Having people from many different countries as part of the team with their unique feedback grounded in their unique cultures combined allows me to truly produce international content, he further adds. 
In addition to having an international understanding, Nick also believes that there are two more demands to be met for success:
-First, you have to ensure that you are truly doing God`s work, and then you have to work hard. If you put these two together, then I believe that failing is no option.  
Changing times presenting new possibilities 
As many of our readers may or may not be aware of, Vision Heaven was originally launched back in the mid-2000s. Amid the recent emergence of the technological revolution, an opportunity window presented itself. 
-For the last year, it has been a recurring theme during lunch time at the office. It was not until recently that we took action. When building the digital infrastructure for Vision Norway and Vision Sweden, we realized that we already had much English content. It was then obvious that we should also focus on Vision Heaven. The puzzle has been added up, peace by peace over time, he further states. 
Nick also focus on the importance of providing Christian content during "Corona season":
– During corona times, people are always on their phones consuming different content. Then why not provide quality Christian content? He asks. 
-When you combine technology and our current situation with the number of time people stay in front of smart devices. I believe that Vision Heaven has reemerged just at the right time. Bringing all of this together with powerful quality content. In many countries, people are not allowed to go to church, especially during coronavirus. Providing Christian content to be viewed at home is then tremendously important. 
Exited for the future 
There is, of course, quite a bit of work going on behind the curtains of such a great project. The team of Vision Heaven have been working hard to prepare everything for the final launch: 
-We have been testing the platform over the last few months and are going in with full force over the autumn. I am especially excited to see what all of our hard work will lead to in the future. I believe that we will start doing more live streams throughout September. We will also add more content. More TV-Shows, more movies. I think that we are now in the start phase discovering what the future will bring. Nick states with full excitement. 
The path from Albania to Norway and Vision Heaven
Nick is not originally from Norway, as most of our readers have probably understood by now. Originally born and raised in a small city in north Albania named Tropojë, He would truly experience the horrors of the Kosovo Wars. The town was also subjected to crime. 
This would have its impact on Nick during his adolescence as the final war was fought in 1998 and 1999. Nick and his sister were eventually sent to Lezhë, a city not far away to escape the conflict. Nick would gradually become a part of a Christian environment not far from his new home. 
Then one night, all of the sudden, he would surrender the Lord, Jesus Christ. Nicks path would first bring him to Pristina, the capital of Kosovo – then to Norway. 
Spending his first years as a part of the organization "Youth With A Mission" he would eventually become a part of the team at Visjon Norge, the mother organization of Vision Heaven. He is today working for both channels. 
Dedicated to his work, but also towards his family and hobbies
Nick study  computer engineering and lives not far from the "headquarters" of Vision Heaven outside of Drammen, a mid-sized city about an hour's ride from the Norwegian capital, Oslo. 
When he is not spending his time with the rest of the team, he is either spending time with his wife and young son – or working on his other passion of photography.